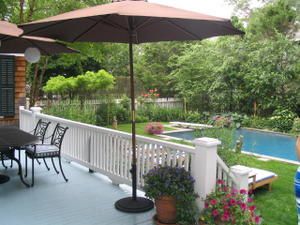 I have had few true vacations in the last couple of decades, though I've done a fair amount of traveling--most of it to New Orleans, to visit and support family in a recently devastated community. I have usually had at least one child in tow, and once five. I have participated in a Habitat build, nursed an ailing parent, helped move my parents three times, been their handy woman of choice, transported one or the other to the emergency room and to surgeries, arranged a funeral, and shopped for a casket and a burial plot. Last summer, I traveled with my daughter and grandson and my two sons, and pulled significant Nana-duty when my daughter caught her child's virus. None of these trips were devoid of pleasure, but they were at best working vacations for me.
This time I am here by myself, and my main purpose is to have a good time. I am looking forward to seeing my Mom, my baby sister/best friend and her family, and of course, the three canine members of my extended family who live here. I am also going to see the touring Broadway company production of Wicked
with several grown-up women, an outing that will include dinner in a restaurant, and the wearing of an actual dress and fancy shoes. I may even put my contacts in! And who knows? I might go totally wild and apply makeup!
On either side of this decadent occasion are one day of flying and one day of relaxed visiting. I worked hard on clearing some major decks before embarking, though I did not succeed in completing all blog posts for the week as I had hoped. I still plan to work on my focus goal for the week of meditating five times--I'm at three already--and to continue training for the 5K nineteen days from now. (I ordered the t-shirt and everything, so it looks like I'm doing this thing.)
But other than those three things, I have decided to take a break from procrastinating--and from thinking much about procrastination. If there's very little I am supposed to be doing, or expect myself to do, then I don't have much to postpone. I am removing the "occasion of sin," as I was taught to call it in my Catholic youth.
I don't think this is the kind of relapse an alcoholic might experience by taking a break from sobriety. That kind of recovery is more of an either/or scene. This is a bit like "Stop the World
[Treadmill]. I Want to Get Off!"--but just temporarily. I won't be procrastinating, just not sweating procrastination.
I expect that I might return to my recovery project with renewed energy, and maybe an insight or two. At the very least, I will be able to see things through some other lens for these few days. For now, I'm not putting off coffee on the deck in the warm Louisiana morning for one more minute.